Okay Tornadoes, I admit, Ya Got Me
I don't know if you guys know this, but Oklahoma.... was kind of fucked up over the past couple of days. Huge tornadoes swept through the metro area on Sunday and Monday, and while the initial wave on Sunday did SOME damage, it was nothing in comparison to what happened yesterday.
Within the span of 20 minutes a little storm climbed up to an EF-4 class tornado and decimated the town of Moore, Oklahoma (and some of the surrounding areas). Moore is where a bunch of my family lives, and works (including myself). Luckily, me and my immediate family where able to get to shelter during all of this (my mother was at work, and so was my older brother, but both of their places of business were evacuated).
Unfortunately, my extended family was not so lucky. My uncle, and his family, lost their entire home during the storm. As did another one of my Aunts and her family. Right now, they are homeless. No other way to put it. I really don't know what the situation is with relief aid in situations like this, but having something this devastating happening so close to home.... well, it kind of makes me feel bad for all those 9/11 jokes I make (kind of, not entirely though).
And while my family's situation is bad, there are tons of other families who were far less lucky in this event. Last I checked, the death toll was around one hundred. And driving up to Moore... well, it's obliterated. It looks like it was firebombed. I was literally up there less than 5 hours before the storm, and everything was standing and perfect. You know? Then a few hours later, you head back into town and over half of the buildings leveled. It looked like... the city had never been there, just rubble.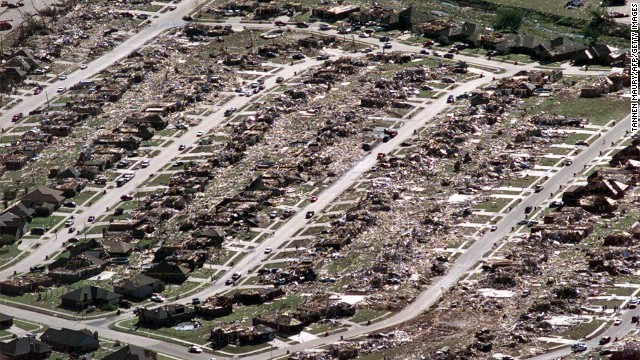 And like I said, tons of lives have been destroyed because of this incident, and I don't really know what to say about that. I'm not religious, and to be perfectly honest, I think I saw my sister finally lose faith in god because of this event. The look on her face when she was watching the news reels (which she was doing up until around 4 AM this morning) was the look of a defeated woman. I always find people who believe in god to be kind of silly, but there's no denying that the lose of faith takes a toll on someone's mental and emotional state.
Life can be unsteady when you don't have a god to blame.
Anyways, I don't really know how to wrap this up. All I know is that Oklahoma and its families could definitely use some help here, not just by hashtagging and retweeting photos and stories, but by actually donating. So if you, or anyone you know could help in the relief effort, that would be great. I spent the majority of my morning helping at a local church, and it's.... hell, really.
If you feel so inclined, you can donate at
www.redcross.org/
and some other places:
donate.salvationarmyusa.org/uss/eds/aok
www.feedthechildren.org/tornado
www.regionalfoodbank.org
Thanks.
- Juular